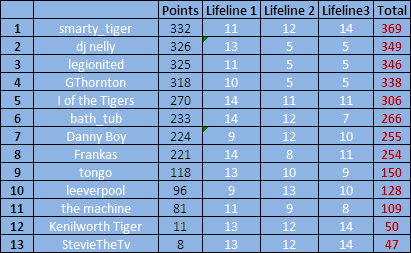 Congratulations to the CasForum Football Predictions 2014/15 Champion - smarty_tiger. An impressive victory with 20 points between 1st and 2nd place.

As ever there is no trophy but there is the following should you wish to add it for your signature.





You can add it by going into the userCP and putting the following code into your signature:
Code: Select all
[img]http://i32.photobucket.com/albums/d33/legionited/CFP1415_WinnerUserBar.png[/img]
Thanks once again to everyone who took part in the competition and in particular those who were able to stick with it through to the end.
I am fairly unlikely to be running the competition again next year as I have struggled to stay on top of it again and I think that really hinders the enjoyment for everyone involved. It also is the most likely reason that so many people drop out during the course of it and as such it might be worth finding someone else who has the time to take over. If anyone has any interest in taking it on then let me know. Hopefully someone will be up for the task.
Cheers,
Sean[/color]